Ļoti gaidītajam kaujas spēles Call of Duty: Warzone 2 beidzot ir iznākšanas datums un jauns nosaukums.
Call of Duty Next tiešraides laikā tika paziņots, ka Warzone 2 tiks izlaists 16. novembrī. Tas nonāks spēlētāju rokās tikai dažas nedēļas pēc Call of Duty: Modern Warfare 2 izlaišanas oktobrī. Un, protams, mēs saņēmām oficiālu nosaukumu, kas apstiprināja, ka to sauc nevis par Warzone 2, kā mēs paredzējām, bet gan par Warzone 2.0 .
Tas tiks izlaists kopā ar savu pirmo vairāku spēlētāju sezonu. Tāpat kā sākotnējais Warzone, katrs Warzone 2.0 sezonas atjauninājums tiks koplietots ar citiem Call of Duty nosaukumiem, kas nozīmē, ka daudzas no Modern Warfare 2 jaunajām funkcijām parādīsies arī Warzone 2.0.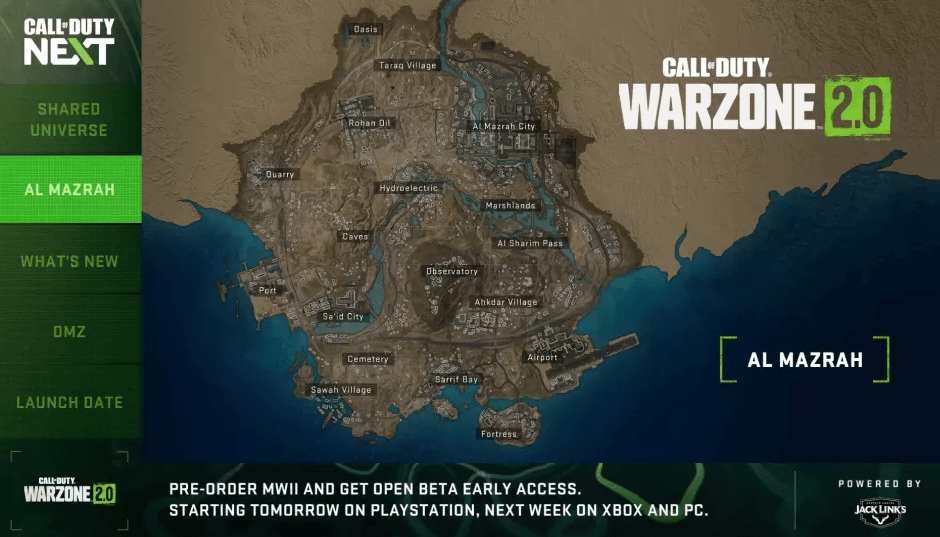 Warzone 2.0 ieviesīs dažas būtiskas izmaiņas battle royale. Iesācējiem tas ieviesīs jaunu karti Al Mazrah — plašu tuksneša, industriālo zonu, pilsētu un daudz ūdens. Gaidiet akmeņainas virsotnes, pazemes alas, kā arī klaustrofobiskus koridorus.
Daži no kartes apskates objektiem būs cietoksnis, observatorija, pamests ciemats, purvi, lidosta un tukša metropole.